Enhancing the Ownership Experience
When you stop and picture your dealership on an average day, what does it look like? Perhaps phones are ringing incessantly, technicians are scrambling to get customers checked in and service managers are struggling to take appointments and accommodate walk-ins.
Sound familiar?
Of course, a busy shop with a fully booked service lane is ideal for a dealership's bottom line, but keeping that momentum can be stressful. As any dealership manager knows, scheduled appointments don't always mean seamless operations: customers run late or cancel at the last minute, technicians run behind schedule and other unforeseen elements can hinder a dealership's ability to manage its schedule. This is why modern dealerships are paying more attention to what has become known in the industry as the fourth inventory: technician time.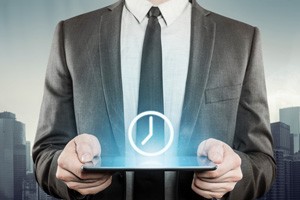 Read more
Time is intangible and it's instantly perishable," said Jim Roche, SVP of Marketing & Managed Services at Xtime. "Every second that you're not using that time is lost money, so the first thing a dealer needs to be able to do is visualise and track how much time they have, how much is scheduled and how much is unsold capacity and then market that capacity to maximise that technician time."
Xtime is successfully changing the way dealerships manage and market unsold shop capacity thanks to Scheduling 7 and Marketing 7, industry-leading service retail experiences that capture demand anytime, anywhere, and provide a 360-degree snapshot of each customer. Every hour you aren't utilising technician time is an hour that you are losing money, which is why Scheduling 7 and Marketing 7 were designed to dramatically improve service manager, advisor and call centre productivity.
The latter element should be of particular interest to dealership managers when leveraging technician time. According to a recent Automotive News article, dealerships that properly utilise call centres can experience higher service appointment volume and revenue by ensuring that the amount of in-bound calls can be answered and appointments for both small- and large-scale services can be made in a timely fashion. This is made possible by having a centralised department schedule and tools to analyse and sell unsold shop capacity to determine where the service drive's time is underutilised.
"Having customer data at your fingertips also enhances the overall vehicle ownership experience," said Jim. "It enables service advisors to suggest additional maintenance or repairs, book appointments in advance to allow more time with a customer's vehicle. The customer connects with the dealer in a convenient, accessible platform."
Many solutions exist today to provide an enhanced ownership experience; the key to their success, however, is to use such technologies as a supplement to—not a replacement for—outstanding customer service. Xtime's solutions do this and more by enabling everyone in the dealership—service managers, advisors and call centre personnel—to launch timely promotions to fill unsold time slots and book appointments, ensuring that even a high volume of appointments won't leave customers unattended to. With its best-in-class features such as a visual workbook, service timeline and opportunity dashboard, scheduling with promotions, one-click search capabilities and more, Xtime has set the industry standard for retaining current customers and capturing new business, boasting an industry-best 40 percent online booking conversion rate.
Xtime analysis of 7,000 dealerships "shows business could increase 32% by effectively promoting and pre-selling service appointments as yet-unsold inventory," said Jim. "Pay more attention to your fourth inventory. You can't afford not to."
To learn more about how Scheduling 7 and Marketing 7 help call centres and dealership personnel leverage their fourth inventory, schedule a demo today.
Best Practices: Time-based Promotions and an Engaging Ownership Experience Hold the Key to Winning Back Lost Souls
Every successful business knows that loyal customers are the most profitable. But what about the ones you've lost—the so-called "lost souls" who have previously visited your service department but have since defected?
Today's consumers have many choices for vehicle service, often choosing convenience or cost efficiency over service quality. Thus, combining an engaging ownership experience with time-based promotions is the key to maintaining and growing your business and recapturing lost souls. With the right tools, winning customers back can be accomplished by a few simple mouse clicks.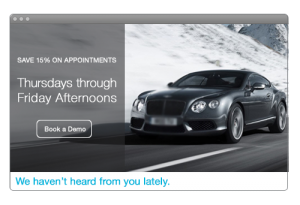 Read more
With its ability to visualise unsold shop opportunities and launch time-based promotions specifically targeted to lost souls, the Marketing 7 component of the Xtime Retention System gives dealerships multiple chances to win back customers. A recent analysis of Marketing 7's performance over a six-month period showed that this solution helped dealerships realise:
$463 additional customer pay per vehicle
$7.4 to $1 in customer ROI
20 recaptured customers per month, with an average of 21 months since last visit
21 months since last visit
25 percent email open-rate
1.6 percent email-to-click rate
"Marketing 7 allows my marketing to be as adjustable as I need it," said University Volkswagen Mazda Parts & Service Director Scott Ostler. "It allows us to offer discounts for the slower times in my shop—instead of having everyone show up all at once when my marketing efforts are deployed. It is very customisable for my shop load needs. It has helped move my retention number in a very positive direction."
Click here to read more about how Xtime is helping dealerships create an engaging ownership experience that wins back lost souls and generates repeat customers.
Thank You for Joining Us at Digital Dealer Las Vegas
The Digital Dealer 19 Conference & Expo on October 5-7 was a success, and Xtime extends its gratitude to all of you who visited us at our booth for a demo or attended the presentation given by Jim Roche, SVP of Marketing & Managed Services.
The presentation, "A Comprehensive Service Experience Impacts Loyalty & Profits," attracted a lively and engaged crowd as Jim spoke about growth and profitability strategies for the coming year and beyond.
Of particular interest to the crowd was Jim's discussion of the three most common myths that prevent dealerships from maximising their service drives: that service customers only want morning appointment slots, recalls have only a negative impact on dealerships and that tablets complicate the service write-up process.
Bottom line: An excellent ownership experience is critical for dealership profits. In case you missed Xtime at Digital Dealer, be sure to catch Jim's interview on Service Drive Today, a member of the CBT Automotive Network, where he recently shared insights on how dealerships can leverage technician time—otherwise known as the fourth inventory—to enhance the ownership experience and recapture lost souls.
Service Star: Central Valley Nissan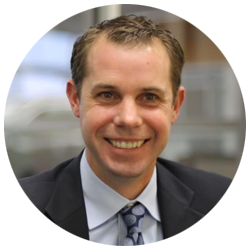 When the managers of Central Valley Nissan in Modesto, California, first saw a dealership using tablets in the service drive, they knew that they had to bring the same concept to their staff. Since implementing Check-In 7 and Scheduling 7in the service drive, Central Valley Nissan has seen a significant boost in conversion rates, online and mobile appointment scheduling, new online customers and customer pay per RO. Read on as we interview Executive Manager John McSherry and General Manager Dennis Kraut to discover how Central Valley Nissan is succeeding with Scheduling 7 and Check-In 7.
How did the service lane work before Xtime came along, and how did the dealership in general operate?
[John] The way that we did business before Xtime was a very impersonal relationship with the customers and kind of transactional. Xtime loads up the advisor with the proper steps that we would prefer them go through [with customers], whether it's recalls, tyres or the exact menu for their vehicles. So it helped us with a real consistent process and kind of start to get us into the digital age of dealing with the customers.
What was the motivation for implementing Check-In 7?
[Dennis] We wanted Check-In 7 because it is easier for the customer, it is more technology savvy and it has a lot more information right at the advisors' fingertips. They're able to look up customer information. They're able to look up the history of the vehicle. They're able to be at the car with the customer when they're discussing all of their needs. They're able to look at any of the recall information. They're able to look at their tyres. It just gives the customer a lot more information to be able to make decisions.
Can you tell us a little bit about how Check-In 7 works with customers on a day-to-day basis?
[John] So the customer will pull into the service drive. The advisor will meet the customer at their vehicle—a very professional meet-and-greet. And then the customer can tell that the advisor has all the information of their vehicle, the VIN number or applicable recalls. The recall information is huge, especially right now, so the fact that we know exactly what recalls are applicable to that vehicle makes us look very professional. It also loads up the advisor with a lot of information in a consistent process that we didn't have before. [Dennis] The tablets have been wonderful on the drive. They allow advisors to do their walk-arounds with the customers, have that information right there and be able to spend the time with the customer. The customer is in charge at that point. And it's just a lot easier and a lot nicer for the customer.
What do you like most about Check-In 7 and Scheduling 7?
[John] One thing I like best about Check-In 7 is the menus because they're applicable to that customer's vehicle at that time. All that information's there for us and the customer. Also, with tyre sales, we are able to plant the seed with the customer that they need tyres and that we do have those tyres in stock right at that moment on the drive, and that it's not going to extend their service time by much more. And then the third thing is the recalls and the fact that we are proactive and know that right then. We're here to provide service to them instead of just try to sell them things.
Has Xtime changed the customer experience with regard to the service drive and to your dealership in general?
[Dennis] Xtime has definitely changed the customer experience, along with changing the [dealership] employee experience—both of them are now able to help each other through the process. It's not an easy process to bring your car in to be worked on, and Xtime has definitely helped it be a little more customer-friendly that way.
Informatica Recognizes Xtime
nformatica, a provider of data integration software, recently recognised Xtime for leveraging Informatica data services to build more value for the automotive industry. The case study highlights Xtime's 360-degree view of customers and targeted marketing campaigns.
"As the trusted leader of customer retention for OEMs and dealerships, Xtime produces key insights regarding the retail automotive industry. With Informatica, we can optimise our research and provide additional unique results that help dealerships and OEMs deliver a premium ownership experience and increase customer loyalty."
Neal East, President, Xtime